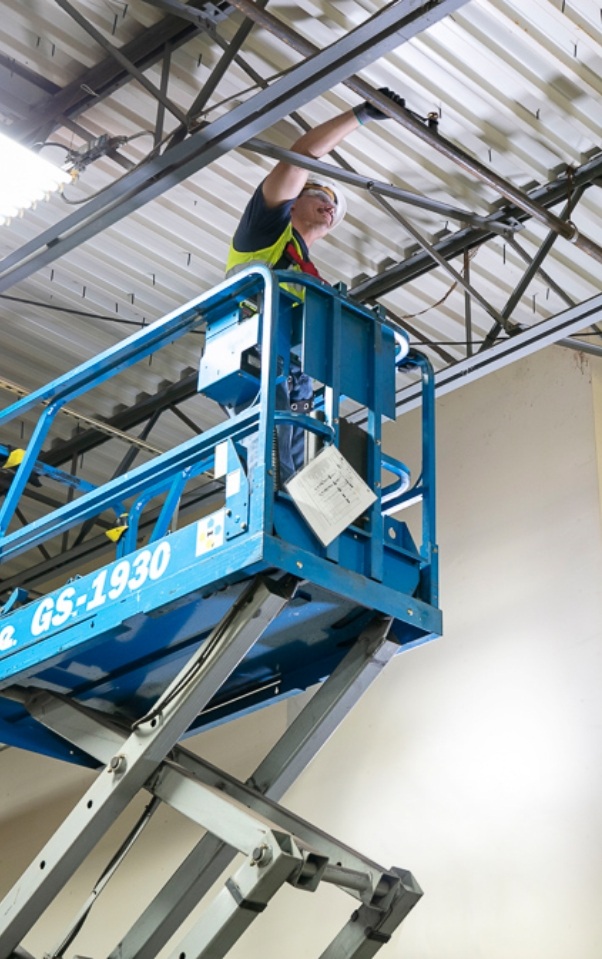 Avoid Costly Accidents
Preventative and Emergency Fire Sprinkler System Repair
A well-maintained system is at the core of protecting your property and saving lives. Nothing can be left to chance. In our experience, few fire sprinkler repairs aren't urgent. We've built a team and system specifically to be able to respond faster than anyone else.
With our deep training, the person that responds can typically solve the issue right on the spot. No need for back up. No need to contact the manufacturer.
If you need emergency service, contact us at 800-549-9912.
Regular system inspections, maintenance and testing reduce the need for repairs. Our comprehensive reports and convenient online portal make it easy for you to access your property's records. We track the recommended preventative services for your specific system, so you never fall behind.
However, we understand office and workplace accidents still happen. Common signs you may need fire sprinkler system repair services include:
Leaks
Corrosion
Rusting
Recent Discharge
False Alarms
Any of these occurrences may indicate a part is worn out or malfunctioning, or potentially something much worse. You don't want to take the risk. Avoid any liabilities or potential loss. Seek professional assistance immediately.
Fire System Repair Services Offered
Backflow Prevention Testing and Certification
Corrosion Repair and Prevention
Corrosion Repair and Re-Installation
Emergency Lighting Testing
Fire Alarm Monitoring
Fire Alarm Panels and Detectors
Fire Extinguishers
Ice Thaw-Out
NFPA Inspections
Pre-Engineered Systems
Preventative Maintenance
Integrated Fire Protection Repair Systems
Life/safety systems come first. Every repair, no matter how minor, should be addressed. Ensure your system satisfies all insurance eligibility requirements. Protect your property with an up-to-code, equipped sprinkler system that's always ready to go.
We repair systems from all manufacturers in any building type. Consistent routine maintenance and inspections from our highly trained technicians can help spot hazards before they worsen. Protect your business with our integrated services.
Engineering
Design
Fabrication
Installation
Inspection
Testing
Maintenance
Upgrades
Convenient Repairs and Reports
Efficient Expert Fire Sprinkler System Repairs
Choose an industry-leading fire protection company with highly qualified and certified inspectors and service technicians at every branch. Our crew has the capability to provide routine inspections, testing and maintenance in all geographic locations. There's a Wiginton location ready to serve you with 24/7 service.
Conveniently track your services and repairs through our popular mobile application. Access comprehensive reports with real-time updates. Never miss a critical service with our helpful reminders right on your phone.
Read More: Explore Our Qualifications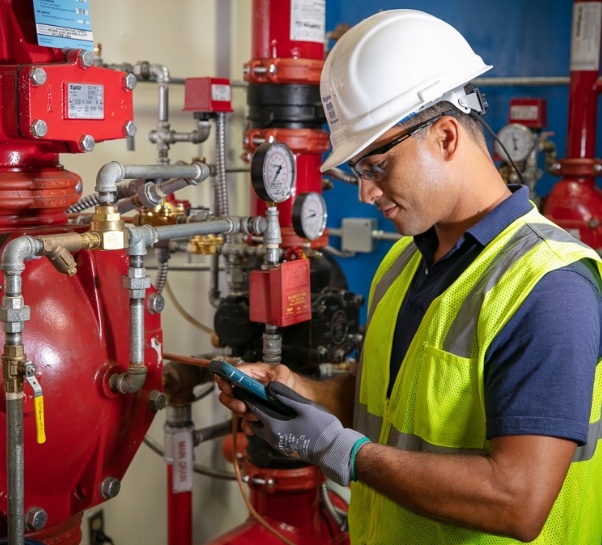 Frequently Asked Questions
It is important to hire experienced professionals for fire system repairs and emergency services. Our technicians are NICET certified, and we are members of key industry organizations like the NFPA, the NFSA and the SFPE.

We have technicians on call 24 hours a day, 7 days a week, 365 days a year.  Emergencies can happen at any time.  We're ready.

The National Fire Protection Association (NFPA) dictates fire alarm monitoring. Our professionals understand NFPA codes and can assist you.

Fire alarm monitoring quickly notifies emergency responders of your fire. It can be critical in a timely response for your emergency.
Locations
Find Wiginton Fire Systems Near You
With offices across the southeastern United States and capabilities to deliver nationally, you can find us in many of the biggest cities in Florida, Georgia and the Carolinas. Contact the location near you to talk to an expert on fire sprinkler systems.
Florida Locations
As the leading fire protection company in the Southeast United States, Wiginton Fire Systems proudly serves all of Florida with full-service branch offices conveniently located in most major cities throughout the Sunshine State.
Simply click on the Wiginton Fire Systems location nearest you below for more information about our fully integrated fire protection services, including expert installation, service and inspections from our fully licensed experienced teams.
Speak to a Specialist About Fire System Repair Services
If you need emergency service, contact us at 800-549-9912.
Nothing can be left to chance when it comes to fire safety. If your fire sprinklers or fire alarm needs repair, discuss your repair service options with our professionals today.
Join Our Team of Fire Protection Professionals
Grow your career at an industry-leading fire protection company. If you're an industry expert of nearly any specialty, we could have a fire sprinkler job for you. If you're a motivated individual looking to break into the industry, talk to us. There's something special about Wiginton — see it for yourself.
What Our Clients Say
Thank you so much for the important contribution you made to the construction of the Brevard Rescue Mission buildings. The 13 buildings will permit many women and children to transform their lives.

Fred E. Sutton, Sutton Properties