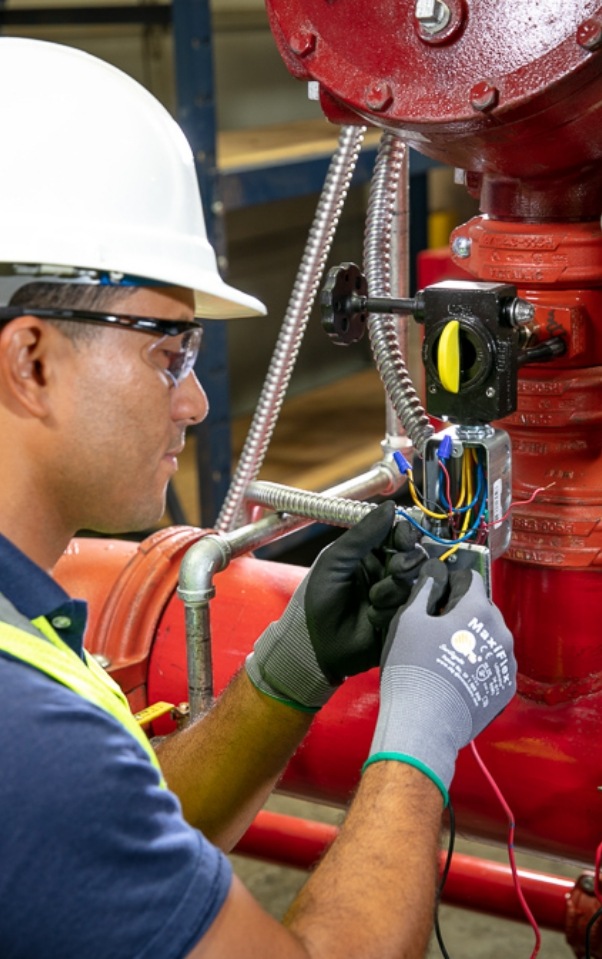 Keeping You Safe
Fire Protection Inspections to Meet Your Needs
Is today the day? Is today the day your fire protection system will respond to save a life?
You hope it never comes. But you have to do everything you can to make sure your fire sprinkler system is ready.
Whether you are a new build starting regular inspections or are looking for another vendor to manage your fire sprinkler inspections, Wiginton is armed and ready.
You get top-level, highly trained personnel combined with a robust system for recording your inspections and charting a maintenance timeline. Every record you need for compliance is just a few clicks away.
The National Fire Protection Association (NFPA) requires regular fire sprinkler, extinguisher and fire alarm inspections. Inspections include comprehensive evaluation of equipment and components for any visual signs of issues, such as corrosion and leaks. Unlike testing, the process does not involve operating the system.
Fire sprinkler systems inspection frequency depends on a variety of factors, such as:
NFPA Standards
Type of System
System Components
Local Codes
Insurance Requirements
Based on these guidelines, our experienced technicians can help you understand what's best and what's required for your system. Inspections may occur on a range of frequencies, from weekly to multi-year intervals.
Never miss a critical inspection with our customized inspection programs. We track your systems and remind you when it's time to schedule inspections. Our integrated services allow you to save with multiple services in just one trip. Have multiple properties in different locations? Talk to us about bundling options. See how you can save while prioritizing saving lives.
Our Inspection Services
Fire Alarms and Monitoring

Fire Sprinkler Systems

Inspections and Tagging of Backflow Preventers and Emergency Lighting

Pre-engineered Systems
Qualified Inspectors and Business Owners
The person inspecting your system at your company plays a pretty big role at our company. They are an owner.
Imagine how thorough your inspection is going to be knowing it is going to be done by someone who is a direct and linear impact to our success as a company. Every one of our team members knows how important your inspection is to you — and us.
We complete every single fire sprinkler system inspection as if we were inspecting the one responsible for our company's safety and in accordance with NFPA standards and your local codes.
Fire Sprinkler Systems – NFPA #25
Fire Extinguishers – NFPA #10
Pre-engineered Fire Sprinkler Systems – NFPA #17 and #17A
Fire Alarm System – NFPA #72
Fire Alarm License #EF20000358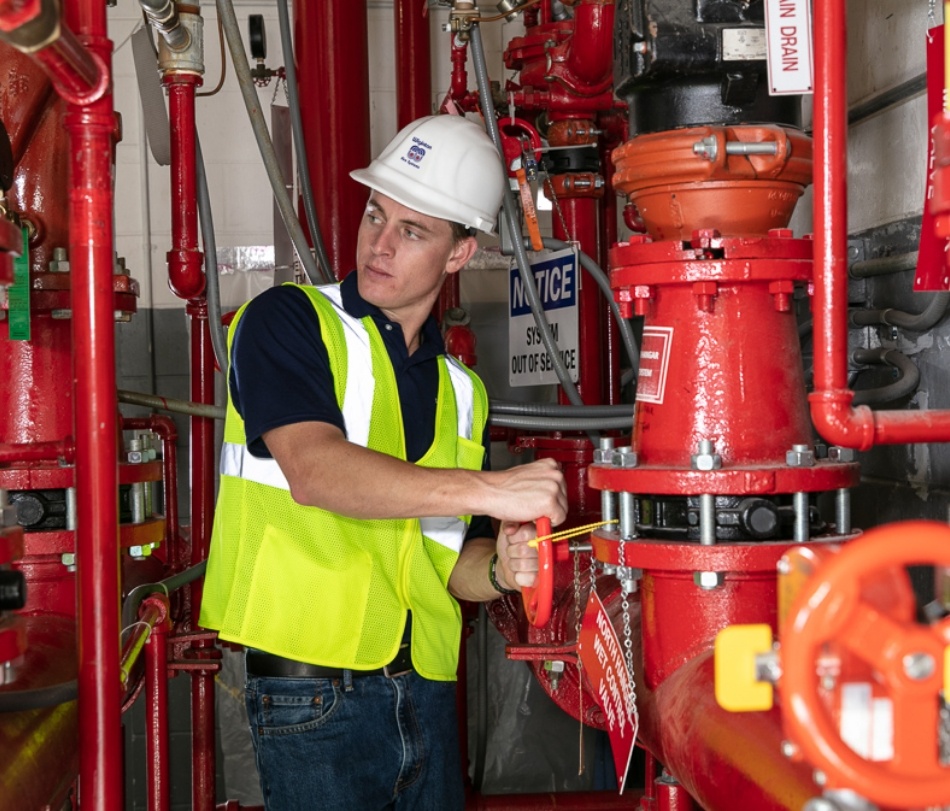 Convenient Inspection Services
Comprehensive Inspection Reports and Planning
Our attention to detail is evident in our meticulous record keeping. We track every inspection your system needs, so you can focus on running your business. All of that vital information is only a couple of clicks away.
Every inspection record is available to you through a proprietary mobile application that puts easy-to-read reports at your fingertips. Receive estimates for routine inspections and maintenance in advance through the app.
Read More: How Regular Maintenance Helps You Pass Inspections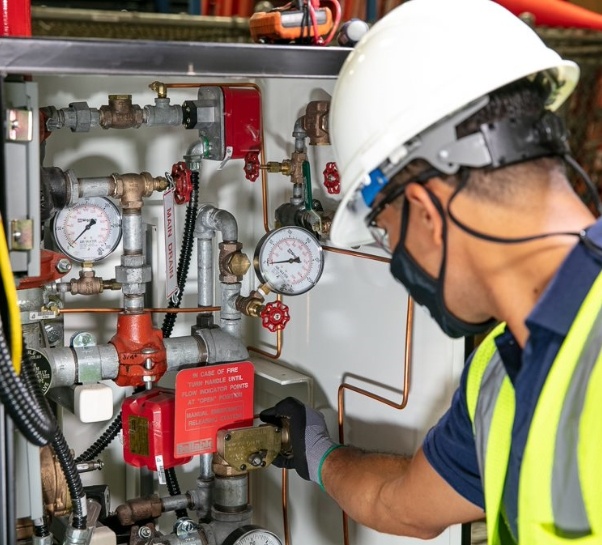 Frequently Asked Questions
The frequency of a fire sprinkler system inspection differs. Generally speaking, the different aspects of your fire sprinkler system should be inspected either weekly, monthly, quarterly or annually.

A fire sprinkler system inspection is a multipoint inspection of all devices to ensure they meet NFPA requirements.

Fire sprinkler system inspections vary in frequency depending on the type of system and the components of the system. They may be recommended weekly, monthly, quarterly or annually.

A fire alarm inspection checks all aspects of the fire alarm system, such as the panel, smoke detectors and pull stations.

A five year fire sprinkler system inspection is a thorough inspection of your entire system. In general, this inspection ensures there are no blockages in your system and everything functions properly.

There are a few common reasons a fire sprinkler system may fail an inspection. Your system may fail if it does not meet the necessary NFPA standards. However, regular maintenance helps ensure your fire sprinkler system passes inspection.
Locations
Find Wiginton Fire Systems Near You
With offices across the southeastern United States and capabilities to deliver nationally, you can find us in many of the biggest cities in Florida, Georgia and the Carolinas. Contact the location near you to talk to an expert on fire sprinkler systems.
Speak to a Specialist About Fire Sprinkler Systems Inspection
Ensure your system is up to code with a fire sprinkler systems inspection. Schedule your next inspection with us today. Don't delay — your inspection is critical to protect your property and save lives.
Join Our Team of Fire Protection Inspection Experts
Take the next step in your fire protection career. No matter if you're new to the industry or a tenured professional, we may have a spot for you at our 100% employee-owned company. We believe in the power of your personal success. Talk to us about opportunities today.
What Our Clients Say
Thank you so much for the important contribution you made to the construction of the Brevard Rescue Mission buildings. The 13 buildings will permit many women and children to transform their lives.

Fred E. Sutton, Sutton Properties