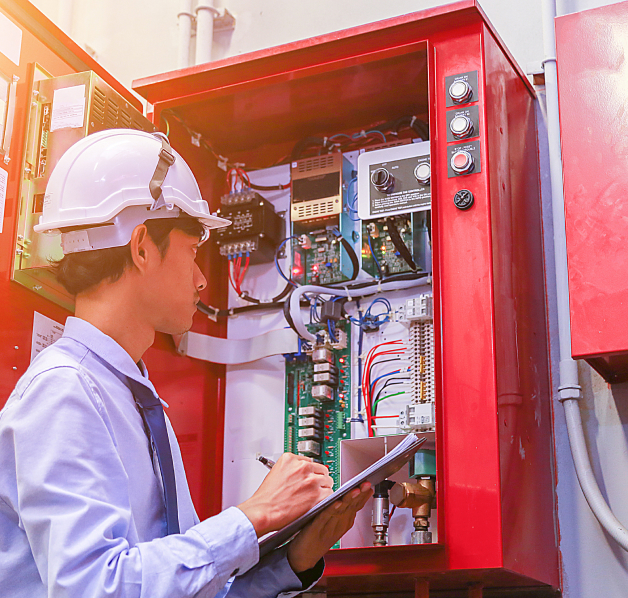 Customized Fire System Inspections:
Put Our 50+ Years of Fire Protection Expertise to Work for You
A structure fire starts every 63 seconds in the United States, according to the National Fire Protection Association (NFPA). That's why businesses like yours are required to comply with all state laws and NFPA regulations by scheduling regular fire system inspections.
Choose our experienced, fully licensed and insured integrated fire protection company for the highest-quality and most thorough regular fire system inspections to ensure compliance with all applicable laws and regulations.
Our top-level, highly trained fire inspection specialists possess the experience and expertise to ensure that all your devices meet NFPA requirements for compliance. Plus, they are all full-time employees. We do not use freelancers or contractors for the important work of making sure you're up to code and identifying any potential issues with your fire system before they get worse.
Our full-service fire system inspection services include:
Fire Sprinkler Inspections
Fire Extinguisher Inspections
Fire Alarm Inspections
The Difference
Ease of Mind Compliance with our Fire System Inspections
The bar is high. No issue can be missed. Here's why some of the most populated buildings in the Southeast choose Wiginton for Fire System Inspections:
Our fire system inspections feature a comprehensive evaluation of equipment and components for any visual signs of issues such as leaks or corrosion.
01
Customized, Thorough Fire System Inspections
01
Based on such factors as the type of your system, NFPA standards, local codes and insurance requirements, our experienced technicians can help you understand what's best and what's required for your specific needs. Inspections may be recommended weekly, monthly, quarterly or annually.
02
Dedicated Team of Specialists
02
We track every critical inspection your system needs, so you can focus all your attention on running your business and leave protecting it to us. With our system, you'll never miss a required inspection. In addition, every inspection record is available to you through a proprietary mobile app that provides easy-to-read reports at your fingertips whenever you need them.
03
Meticulous Record Keeping
03
With over 50 years of protecting lives and property from fire, our 100% employee-owned company offers your business nothing less than the best when it comes to quality fire system inspections.
04
With full-service branch offices located in major cities throughout Florida, Georgia and the Carolinas, our expert crews are ready to perform inspections wherever you are and whenever you need them.
05
Locations Throughout the Southeast
05
Maintenance
Building Maintenance Made Easy with Wiginton Fire Systems
Make sure your system is up to code with a comprehensive fire system inspection from our seasoned fire protection specialists. Schedule your next fire system inspection with us today. Don't delay — your inspection is crucial to save lives and protect your property.
Speak with a Specialist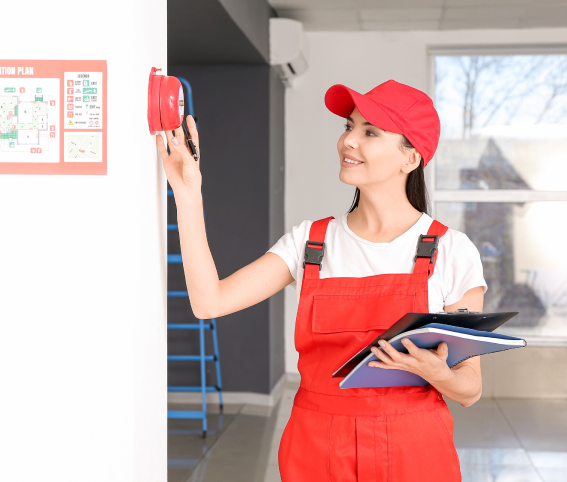 Locations
Find Wiginton Fire Systems Near You
With offices across the southeastern United States and capabilities to deliver nationally, you can find us in many of the largest cities in Florida, Georgia and the Carolinas. Contact the location near you to talk to an expert on fire systems.
Frequently Asked Questions
Our professionals not only abide by NFPA codes, but our engineers help write them. We inspect and maintain fire systems from every manufacturer.

The frequency of fire system inspections depends on a variety of factors, including NFPA standards, type of system and system components, local codes and insurance requirements. For more information, speak to a specialist at Wiginton Fire Systems today.

One of the main reasons that a fire system fails an inspection is if it does not meet the necessary NFPA standards. That's why it's important to schedule regular maintenance to ensure your fire system passes inspection every time.
Speak to a Specialist About Fire Sprinkler Systems Inspection
Ensure your system is up to code with a fire sprinkler systems inspection. Schedule your next inspection with us today. Don't delay — your inspection is critical to protect your property and save lives.
Join Our Team of Fire Protection Inspection Experts
Take the next step in your fire protection career. No matter if you're new to the industry or a tenured professional, we may have a spot for you at our 100% employee-owned company. We believe in the power of your personal success. Talk to us about opportunities today.
What Our Clients Say
Thank you so much for the important contribution you made to the construction of the Brevard Rescue Mission buildings. The 13 buildings will permit many women and children to transform their lives.

Fred E. Sutton, Sutton Properties