Fire Alarm Technician- ATL
Wiginton Fire Systems is currently seeking select candidates for Alarm Technician in its Atlanta Office. Candidates must have 3-5 years experience in servicing and inspecting fire alarm systems and panels. NICET 2 certification preferred.
Wiginton is a leader in the fire protection industry. We have been in business since 1967 and have offices throughout the Southeast. We are 100% employee owned and offer full benefits, competitive salary, and company vehicles. We promote from within and offer advancement opportunities for those who want to grow with us. Don't just find another job. Start your career today.
www.wiginton.net
EEO/Veterans/Disabled
Position Summary
A Fire Alarm Technician is responsible for ensuring proper inspection, service, and repair of the alarm detection system at the assigned job site.
Reporting Relationships
An Alarm Technician reports to the Service Manager or location manager and may direct the work of any assigned employees.
Experience, Education, and General Background Skills
Required
High School Diploma or equivalent. Two year Associate Degree in electrical/electronics or equivalent experience. Working knowledge of Windows 9X, test equipment and communicating devices.Physical stamina and ability to perform laborious and strenuous work for extended hours, including overtime up to 25 hours per week, if necessary. Good communication, training, and planning skills. Sense of pride, integrity, and organizational ability. Must enjoy working independently and outdoors.
Minimum of 5 years experience.
Posses a valid driver's license and meet all Insurance Carrier requirements.
Physical and Mental Demands
Requires constant (67%-100%) bending; reaching; stooping; pushing; pulling; grasping; standing; climbing tall heights; twisting; and lifting/carrying heavy pipe, equipment, and tools (up to 100 lbs unassisted). Requires occasional (0-33%) sitting and driving. Must possess stamina to perform physical labor for extended periods of time while enduring dirt, dust, smoke, fumes, and loud noises outdoors in all temperatures, in and around electrical and natural elements. Requires constant mental alertness, corrected vision, and hearing to normal range. Requires ability to communicate clearly and drive a vehicle. Must possess excellent hand-eye and gross motor coordination, plus manual dexterity. Must be able to wear/utilize required safety equipment.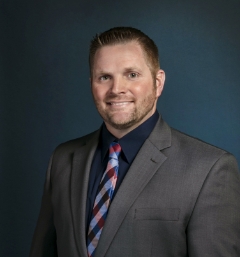 Employee Spotlight
Jason D. Kirk
16 Years of Service
What inspired you to seek growth within this company?
Watching others around me progress made it contagious and, of course, my family.
What is it about this company you enjoy most?
I have direct contact to anyone in the company. No matter what position, everyone remains intimate with the folks and operation.
There's a great opportunity here if you are willing to work hard. Most of the leaders in this company started in the chair you are sitting in right now. No position in this company is beyond your reach.
Current Title
Jacksonville VP – Branch Manager